An official website opened by production and distribution company Nikkatsu announced a television anime adaptation of Haro Aso and Koutarou Takata's Zom 100: Zombie ni Naru made ni Shitai 100 no Koto (Zom 100: Bucket List of the Dead) manga on Friday, revealing the main staff, cast, a teaser visual (pictured), and the first promo. The anime series will begin airing in July 2023.
Voice actor Shuuichirou Umeda (Kawaii dake ja Nai Shikimori-san) is starring as Akira Tendou.
VIZ Media licensed the anime series in North America, Latin America, Australia, and New Zealand, according to entertainment news outlet Variety. Hulu will stream the anime in the U.S. The anime is part of a production deal between VIZ Media, Shogakukan, and Shogakukan-Shueisha Productions.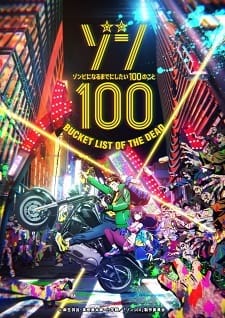 Staff
Director: Kazuki Kawagoe (Komi-san wa, Comyushou desu.)
Assistant Director: Hanako Ueda (Summertime Render episode director)
Series Composition: Hiroshi Seko (Dorohedoro)
Character Design: Kii Tanaka (Kumo desu ga, Nani ka?)
Zombie Design: Junpei Fukuchi (Beyblade Burst chief animation director)
Music: Makoto Miyazaki (One Punch Man)
Music Selection: Maiko Gouda (Devilman: Crybaby)
Sound Production: dugout.
Production: Shogakukan-Shueisha Productions
BUG FILMS, a new animation studio established by production company Twin Engine in October 2021, is producing the anime.
Aso and Takata began the comedy horror manga in Sunday Gene-X magazine in October 2019. Shogakukan published the 12th volume on November 17, with the 13th volume scheduled to be released on February 17.
VIZ Media licensed the manga in English in July 2020 and shipped the eighth volume on August 16. The ninth volume is planned for a February 21 release.
A live action movie based on the manga will premiere worldwide on Netflix in 2023. Yuusuke Ishida (Shin Godzilla) is directing the movie, with Eiji Akaso (Kamen Rider Build) is starring as Akira Tendou.
Synopsis
In a trash-filled apartment, 24-year-old Akira Tendo watches a zombie movie with lifeless, envious eyes. After spending three hard years at an exploitative corporation in Japan, his spirit is broken. He can't even muster the coursage to confess his feelings to his beautiful co-worker Ohtori. Then one morning, he stumbles upon his landlord eating lunch—which happens to be another tenant! The whole city's swarming with zombies, and even though he's running for his life, Akira has never felt more alive! (Source: VIZ Media)