That Time I Got Reincarnated as a Slime is a Japanese light novel series written by Fuse and illustrated by Mitz Vah. It has been adapted into a manga series, as well as an anime series that has been very popular. The story follows the journey of Satoru Mikami, a middle-aged man who is reincarnated into a fantasy world as a slime monster with the ability to absorb the abilities of anything it consumes. As he navigates his new life in this world, Satoru forms relationships with other monsters and beings, and works to become more powerful and find his place in this new world.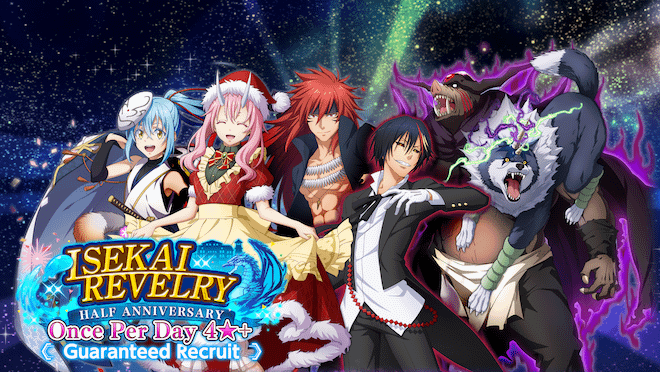 The "ISEKAI Memories Anniversary" event you mentioned is likely a celebration of the anniversary of the series, possibly including special releases or events related to the series. If you are a fan of the That Time I Got Reincarnated as a Slime series, you may want to look for more information about this event to see what it includes and how you can participate.
Clear event story quests to get Dragon Scales which can be exchanged for items at the Event Bazaar. You get more Dragon Scales the harder the quest, so strengthen your troop and clear the hardest quests you can.
Starting with this event, Highest-Quality Magic Fangs, Highest-Quality Magic Hides, and Giant Magic Feathers can be obtained in the bazaar without limit. Plus, a new item, Flashback Crystals, has been added. This item can be used to get rewards from past events.
If you just became a chancellor, or if you missed your chance to get certain rewards within the event period, these crystals are the perfect item for you.
New Story Event: Rimuru's So-Called Soothing Days!
Scenarios from the season 2 limited edition Blu-ray special drama CDs have come to Isekai Memories!
To commemorate this event, players can get up to 100 magic crystals in the event rewards!
The scenario this time is "Rimuru's So-Called Soothing Days", based on a special drama CD that came with the season 2 limited edition Blu-ray. This story is fully voiced by a talented voice acting team, so don't miss out!